On November 8, the "KSG602129 Large-scale Process Gas Screw Compressor" project of Zhejiang Kaishan Compressor Co., Ltd. passed the appraisal organized by Xinzhou City, Zhejiang Province. This achievement adopts the most advanced Y-2 rotor profile in the world today, applying the key core technologies of screw compressors such as flow control valves, and breaking the monopoly of imported similar products in China's chemical equipment field. The picture shows Tian Bingbing, director of the Gas Compressor Research Institute of Kaishan General Machinery Research Institute, introducing the compressor performance to the experts at the test site. (Photo by Peng Yan)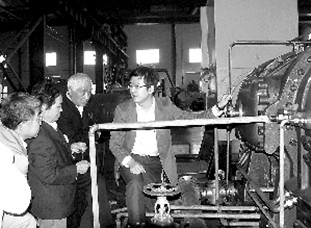 With the prolonged operation of the Steam Turbine power generation equipment, after a long period of start-stop operation, the loss of the equipment gradually increases, which inevitably causes the wear, tear, deformation and damage of equipment components, making the whole operation of the machine threatened by risky factors, and make the unit's operating efficiency significantly reduced, and hence affecting the economic performance of the unit. Therefore, the equipment maintenance is particularly important. However, many users do not have professional technical experience and staff, given that, QNP is dedicated to provide its customers with a full range of unit maintenance and repair services, as well as the upgrading of old units. At the same time, QNP also provide its customers with long-term training and debugging services. QNP can develop tailor-made maintenance program upon its customers requirements, provide direct one-on-one service, and realize life-long service to our users.
QNP provides maintenance, repair, overhaul and upgrade services and spare parts supply for turbine-generator set of 0-1000MW.
Power Plant Installation,Steam Turbine Care,Generator Care,Electrical Cabinet Care
Shandong Qingneng Power Co., Ltd. , http://www.steamturbine.be