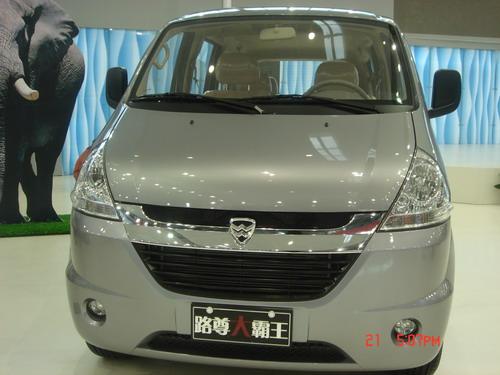 Hafei Luzun Big Overlord
Today, light commercial vehicles have come a long way from entering the Chinese market to localization for decades. This multi-kinetic model born on the car platform now has more than 100 models and is now on the domestic multi-functional vehicle market. Shine. Looking at the mainstream of the development of the domestic light commercial vehicle market in 2008, we can not but mention the main model of home and commercial under the Hafei Luzong Dawang, Hafei Road statue series, with its dynamic and stylish appearance, reasonable and comfortable The interior design of the vehicle increases the payload design.
Hafei Luzun Big Overlord is a new generation of light commercial vehicles jointly developed by Hafei Automobile and Pininfarina of Italy. The design concept lies in satisfying the dual needs of manned and shipped with car-level design concepts. Whether it is from the exterior or internal details of the design, it reflects the new LCV design concept.
The new appearance of European fashion
Faced with this model that has been popular in Europe for more than 20 years, Hafei Motors has cooperated with Pininfarina, a well-known Italian car design company, for many years. This time, it combines the Chinese elements with the European descent. Compared with the design of models, both innovation and inheritance. From the exterior, the vehicle's lines are simple and generous, modern and full, shield-like front face shape and Hafei's "shield" logo echo each other, making the overall feeling round, heavy, coupled with streamlined wheel eyebrow and Stretched waistline, super wide front and rear windows and side windows. The characteristic groove on the side of the car body penetrates through the entire rear body and is full of tension. This reinforces the strength of the car body and breaks through the overall penetrating waistline design of the existing models. It has a European style sense of fashion and becomes a vehicle design. Great highlights.
Innovative design space
One important reason why light commercial vehicles have always been favored by business people is because although it is a compact model, the interior space is very spacious. The Big Overlord is more full on the car than the previous LCV models. The body length of 4.18 meters is 1.88 meters high. The newly created size in China has ensured a spacious space of 8 people, enough to hold a small business meeting in a car.
As a light commercial vehicle with a new concept, Luzun's Overlord has carefully considered the details of the humanized design: not only the front seat position, backrest angle and headrest height can be adjusted according to actual needs, and at any time A comfortable bed, rear seats and a variety of combinations, plus map boxes, cup holders, storage boxes, handles intimate design, simple and practical interior, so that business people feel more natural And comfortable.
As for the cargo functions that are often used in business, the Big Overlord has a unique design in the space of the seat and tailgate. When the middle and rear seat backs are folded forward and turned, There will be a large storage space for luggage and office supplies. All humanized design reveals the noble qualities of Luzun Dawang.
Outstanding low power performance
Taking into account the higher power performance requirements of the owners when they are in commercial use, Hafei Luzun Dawang equipped with a 1.5-liter displacement 4G15 engine of Mitsubishi's latest technology, with powerful power and a net power of 78kw, providing a good impetus for this light commercial vehicle. For the fuel consumption problems that owners often worry about, the Big Overlord also meets this requirement. Hafei Motors has been adhering to the concept of precision manufacturing for more than 20 years. After comprehensive evaluation and improvement of various tests on all road conditions, the matching of the engine and the entire vehicle has reached the best state. It not only has the lowest fuel consumption, but also meets the national IV standard.
It is reported that Hafei Motors, known for its mini-vehicles, has not only launched the Road Zun Dawang for the purpose of commercial rides and cargo, but also is about to launch a home-themed bully, which will surely become a bright spot for young commercial vehicles.
As the concept of commercial vehicle consumption has been accepted by more and more people, in 2008, the independent brand high-performance models represented by Hafei Luzun will inevitably lead light commercial vehicles into a new era that is more adaptable to the Chinese market.
View related topics: Dongfeng Group announced that it will hold "Hafei"
Asbestos was added as an common ingredient to Brake Pads post-WWI, as car speeds began to increase, because research showed that its properties allowed it to absorb the heat (which can reach 500 °F) while still providing the friction necessary to stop a vehicle. However, as the serious health-related hazards of asbestos eventually started to become apparent, other materials had to be found. Asbestos brake pads have largely been replaced by non-asbestos organic (NAO) materials in first world countries. Today, brake pad materials are classified into one of four principal categories, as follows:
Non-metallic materials - these are made from a combination of various synthetic substances bonded into a composite, principally in the form of cellulose, aramid, PAN, and sintered glass. They are gentle on rotors, but produce a fair amount of dust, thus having a short service life.
Semi-metallic materials - synthetics mixed with varying proportions of flaked metals. These are harder than non-metallic pads, more fade-resistant and longer lasting, but at the cost of increased wear to the rotor/drum which then must be replaced sooner. They also require more actuating force than non-metallic pads in order to generate braking torque.
Fully metallic materials - these pads are used only in racing vehicles, and are composed of sintered steel without any synthetic additives. They are very long-lasting, but require more force to slow a vehicle while wearing off the rotors faster. They also tend to be very loud.
Ceramic materials - Composed of clay and porcelain bonded to copper flakes and filaments, these are a good compromise between the durability of the metal pads, grip and fade resistance of the synthetic variety. Their principal drawback, however, is that unlike the previous three types, despite the presence of the copper (which has a high thermal conductivity), ceramic pads generally do not dissipate heat well, which can eventually cause the pads or other components of the braking system to warp.However, because the ceramic materials causes the braking sound to be elevated beyond that of human hearing, they are exceptionally quiet.
Truck Brake Pads,Z36 Brake Pads,New Brake Pads,Best Brake Pads For Trucks
LIXIN INDUSTRIAL & TRADE CO.,Limited , https://www.jmmotorplugs.com