Well Used:
in Chinese Powder Coating Work
Transport Package:
Carton
Product Description:
Features: WX-958 Manual Powder Coating Equipment is our newest model, fine coating effects and very stable quality. Which is especially suitable for spraying complicated workpiece deep corners with very fine performance.
Powder coating applicable: All kinds of powder.
Configurations:
An manual powder gun with gun cable, powder hose, rinsing air tube and standard nozzles
A kit of Powder Gun Spare Parts
A Powder Coating Control Unit
A Powder Injector with venturi insert core
A Fluidized Powder Hopper
A set of Trolley frame
Oil-water separator, Air pressure regulating valve, and Grounding wire
 
Technical Data
Input Power: 50W
Input Power Voltage: 110V-120V AC, 220V-230V AC
Output power voltage: 0 ~100KV
Output Current: 0~150uA
Weight of Gun: 480g
Length of Gun Cable: 4m
Stainless Steel Powder Hopper Capacity: 55L
Work temperature range: -5° C to 40° C
Payment & Shipping terms
Delivery Time: Usually5-7days (According to the order quantity)
Payment Terms: T/T, Paypal, Western Union
Price Terms: FOB, CIF, CFR
Supply Ability: 100 sets per week
Weight: 26kgs (Packing with Carton)
Package: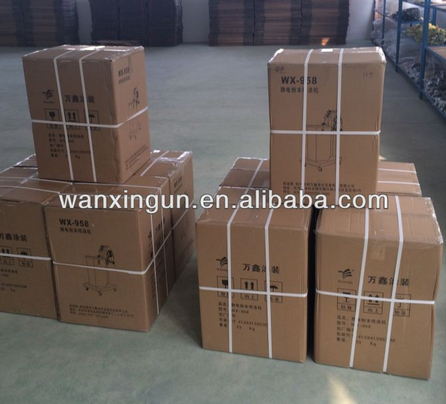 Hebei Mingmai Technology Co.,LTD is one of the leading manufacturers of hot air welding equipment and accessories in China.Our main products are hot air welders, heat welders, hot seaming machines, seaming machines, hot air welding machines, welders, seamers, banner welders, mini welders, hot air guns, roofing welders, plastic extruding welders, geomembrane overlap wedge welders, plastic film jointers, automatic plastic butt welding machines, automatic plastic bending machines, automatic plastic plate saws, waterproofing test tools, hot air welding accessories.
Hand Extruder,Extrusion Welder,Hand Held Plastic Extrusion Welder,Extrusion Welding
Hebei MingMai Technology Co., Ltd. , http://www.buttfusionweldingmachine.com