Smart Drive System:
The Veloup! ™ Smart Drive System
Transport Package:
Carton
Specification:
1600 x 540 x 1000mm
TSINOVA--ALIAS
Smart E-bike Opens a New Era of Urban Mobility
Life is Easy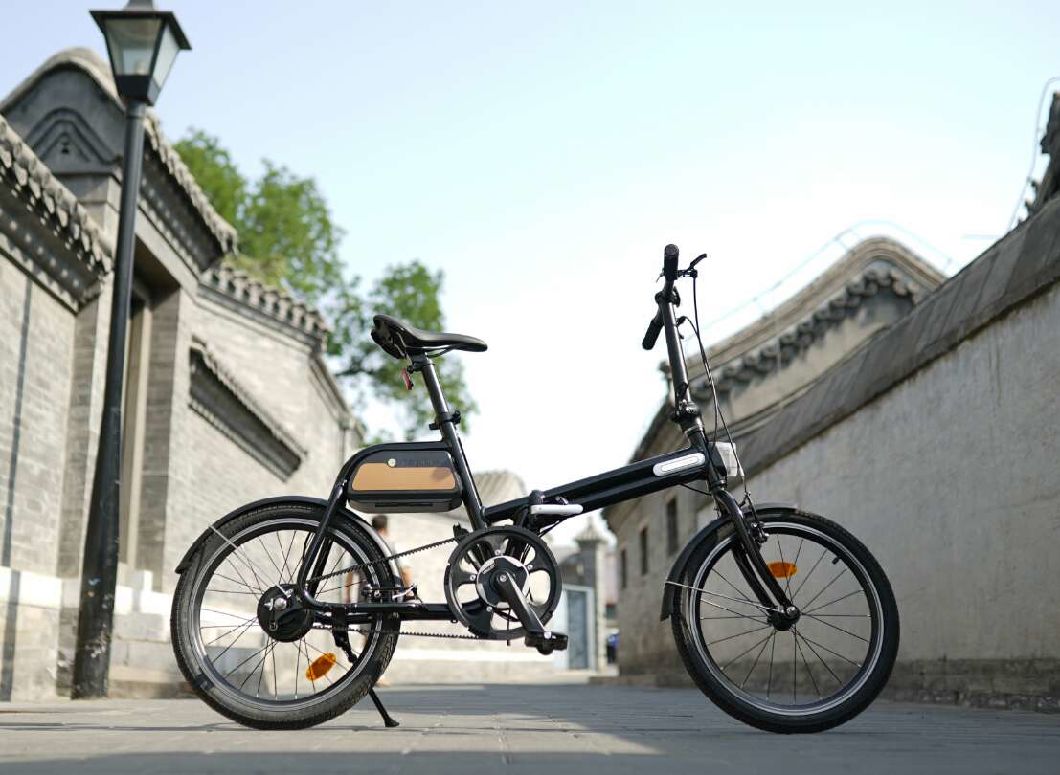 VeloUP! ™ Smart Drive System--Adjustable Power for Intuitive Man-bike Interaction
The VeloUP! ™ smart drive system, empowered by automotive hybrid technology, is capable of intelligent understanding of rider intentions and automatic observation of road conditions. The automobile-grade Freescale processor calculates riding and bike data from torque, pedaling frequence and speed sensors in the matter of milliseconds, delivers fast data transmission through the automotive controller Area Network (CAN) bus technology, and regulates power output from the lithium-ion battery and high-performance electric motor. The smart drive system provides you with an enjoyable hassle-free riding experience in all environments, be it flat, uphill or against the wind.  

Ultra-long Battery Range with Quick and Convenient Charging
Panasonic lithium-ion battary and top-notch battery management system The Panasonic lithium-ion battery, of the same class as tesla battery, has a strong power output. With two hours' charge, it provides a range as long as 50-70km. The battery is detachable for charging and has a weight of only 1kg. The battery is matched with a battery management system jointly developed with Panasonic which achieves efficient and balanced electric discharge and provides comprehensive safety protection including high temperature warning, overcurrent protection, and prevention of over-charge and over-discharge.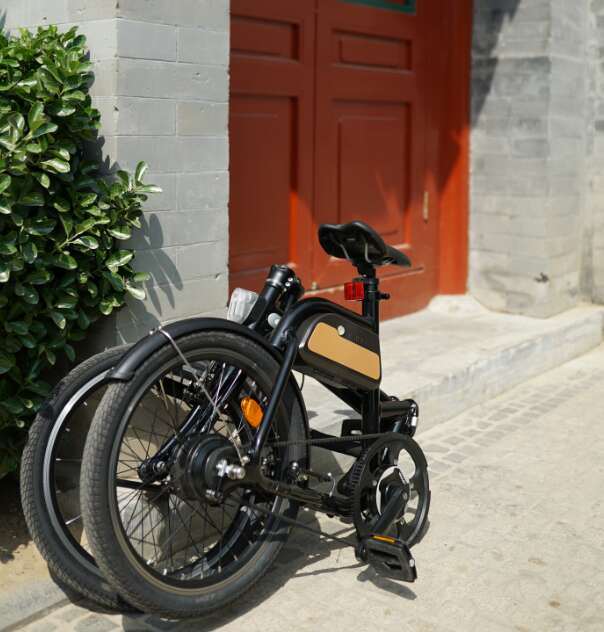 Foldable and Portable
Only 3 steps, 10 seconds to complete the folding,  the vehicle weighs 15kg, regardless of work or leisure, car are inseparable, easy to place the car trunk.
 
Timing Belt transmission
Power transmission based on a vehicle-level timing belt ensures a smooth flow of power, durability, cleanness and quietness. 
Trend-setting Design and Outstanding Comfort
Lightweight dual-trapezoid frame with a simple bauhaus style Smart e-bike has a distinctive bauhaus style, delivering powerful functions in a simple and elegant structure. In departure from the traditional triangular structure, the e-bike features a unique dual-trapezoid frame which transmits vibration to the rear to avoid direct impact on the head tube and the saddle and provide enhanced comfort. Meanwhile, the body lines are sofer and smoother and more visually pleasing and add to rider comfort. 

Real-time Location Positioning
The E-bike can be positioned in real time via the tailored APP, with location information remaining available for as long as 72 hours even when the E-bike is power off. There is no need to worry about theft.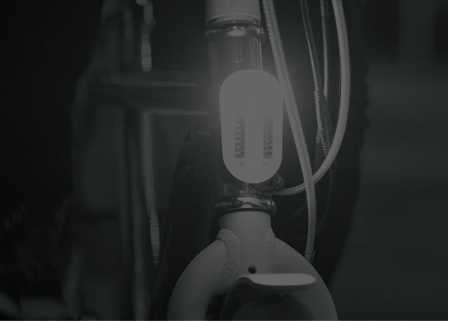 Night Vision System
The high-intensity deep-penetrating LED lights effectively ensure safty for riding in the night.

Connects with the intelligent e-bike via Bluetooth. It allows the rider to make efficient e-bike control, record and share riding experience and achieve intelligent protection and against theft. The great fun of riding is just at the finger tips of the rider. 
More Choices, More Fun
TSINOVA provides 4 assisted drive modes which can be adjusted via the APP to give the rider a free choice of power and speed. 
Comprehensive E-bike Information Ensures Smooth Riding
The rider can read current battery power, riding time, ridden distance and other information from his or her mobile phone. Such comprehensive e-bike information helps the rider to make better riding control.  
Technical Specifications
E-Bike Component Specifications

Frame

Aluminum 6061 TT:562mm ST:420mm

Front Fork

100mm steel fork

Head Parts

34mm outside the wrist group

Brake

Veloup V brake

Rim

20-inch

Cranks

170mm square hole

Transmission

Patented Tsinova transmission system

Seat Tube (post)

31.6*350mm*2.5t

Handlebar Tape

22.2xL-R: 125mm

 
 

Battery Technical Specifications

Battery Type

Lithium Battery

Capacity

5.8Ah

Nominal Voltage

 

36V

 
 

E-Bike Technical Specifications

Dimensions

1600*540*1000mm

Wheelbase

1100mm

Weight

15kg (without battery,pedal and kickstand)

Peak Speed

25km/h

Battery Range

50km

Load Capacity

140kg

 
 

Electric Motor Technical Specifications

Electric Motor Type

PMSM permanent magnetic syschronous motor

Rated Continuous Output Power

250 W

Rated Rotational Speed

250 r/min

Rated Voltage

36 V

 
 

Control Technology Technical Specifications

Under-voltage Protection Value

32 V

Over-current Protection Value

10A
FAQ
1. Q: Can I get some samples? 
A: We offer sample for quality check. Considering electric bike as big item with certern value, we don't Offer free sample and transportation fee is not contained in sample price. 
2. Q: Do you have the products in stock? 
A: We do have product in stock for demestic sale, it may not suit your demand. 
3. Q: What's the delivery time? 
A: It usually takes about 15-45 working days But the exact delivery time might be different for different orders or at different time. Once we Confirmed all detail of order, we'll put all source into it. 
4. Q: Can I mix different models in one container? 
A: Yes, different models can be mixed in one container. 
5. Q: Should we pay the high taxes? 
A: We can make a low-value invoice to help you clearing Customs and avoid the taxes. 
6. Q: Do you accept Paypal? 
A: Yes, we accept Paypal. Besides, we offer bank transfer and Western Union. 
7. Q: Why choose you? 
A: Strong quality controll: We test and check all the parts before on produce line Check and test esch unit when it ready. 
8. Q: When you on the line for service
A: We ussally on the line at 9: 00am to 6: 00pm Guangzhou time. Otherwise, 
We also can do service for you after the working time. 
9. Q: Are you a factory or a import and export company? 
A: We are a manufacture, So as a professional manufacture we not only can supply the bike we Have, We also can design for you if you have the draft


Glad to have a great cooperation with you, my dear friends. 
IIIC
QuFu RongBang Traffic Technology Co.,Ltd , https://www.rongbang.ltd